Dr. Miranda Eliza Jane Fellows, B.Sc, D.C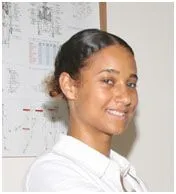 Dr. Miranda Fellows is the founder of 'Carib Wellness' and the developer of 'Eden Life Rejuvenation Centre'. She has dedicated her life to the implementation of natural, holistic healthcare and the optimal wellbeing of
Caribbean
people in particular. The Carib Wellness program is a system of Holistic Integrated Medicine that allows the human body to heal maximally without drugs or surgery. Dr. Miranda is a licensed physician with a specialty in energy medicine. Her license is held in the federation of
St. Kitts and Nevis
. She also holds a license to practice in
Michigan
,
U.S.A.
She has successfully completed her licensing Board exams parts I, II, III and Physical Therapy. Dr. Miranda has been in private family practice in
Nevis
for nearly a decade, based at Eden-Life Centre. Eden Life Centre was the basis for the "Healthy Lifestyles" program that her mother, Nurse Edris Fellows began in 1999. The program teaches people how to change their lifestyle to that of healthy dietary, exercise and relaxation habits. Dr. Miranda opened a sister practice in St. Kitts in 2007 to extend her Wellness services to more people. Dr. Fellows also lectured and worked from time to time in
Puerto Rico
with a team of Integrated Medicine specialists, and for a very successful Doctor of Naturopathy respectively. Dr. Miranda studied for her Doctorate of Chiropractic in
Australia
and the
USA
. She did an externship in her final year with a group practice in
Missouri
, where she gained valuable in-the-field practice outside the standard university clinic. Dr. Miranda was awarded "Student-Doctor of the year" accolade for having the most patients as a graduating student-Doctor as well as outstanding service to mankind. Dr. Miranda volunteered at the Salvation Army clinics in
St. Louis
as well as the drug rehab clinics, where she gave much needed chiropractic care. She undertook the chiropractic management of the male and female athletes of Lindenwood Track and Field Team, wherein many of the athletes of the Federation were attending.
She has post-graduate certification in Applied Kinesiology, Pediatrics, Acupuncture, Sports Medicine, and Clinical Nutritional Therapy. In February 2007 she became certified in Energy Medicine and wellness protocols after rigorous training over 4 years that culminated in examination of theory and practice of Dr. Brimhall's "Six Steps to Wellness" Protocol. Adding to her repertoire of techniques includes: Emotional CPR, biofeedback technology, homeopathy, detoxification, laser therapeutics, hyperbaric medicine, Quantum Neurological Release Technique and finally in 2012, after 2 yrs of study completing Vedic Mastery with the Chopra Centre in California.Dr. Miranda incorporates the ancient science of Ayurveda into her practice. She is now certified to teach Meditation, Yoga, and Perfect Health- Ayurvedic lifestyle. These teachings are implemented into Eden Life Rejuvenation Centre, a residential Holistic Health Retreat where people can come from all over the world to heal and rejuvenate.Instead of training and competing so extensively in triathlon she practices daily mediation and yoga, which is more grounding and allows more time for spending with her son. Running, swimming and biking are now relaxing without having to be so competitive. Dr. Miranda has a family practice in St. Kitts 'Carib Wellness' and also Nevis 'Eden Life Rejuvenation Centre' in the foothills ofMount Nevis. She enjoys working with athletes and even sees the race-horses in both islands doing equine chiropractic. Dr. Miranda's Motto's are 'Carpie Diem' (Sieze the Day) and 'To Love for the sake of Loving, Give for the sake of Giving, and Serve for the sake of Serving" (Life University, Atlanta).

Dr. Miranda Fellows completed High School in England and then was recruited for a full-ride track and field scholarship at DePaul University, Chicago where she completed the pre-med Bachelors program with a major in Biological Sciences as a student-athlete. Upon graduation she went to Melbourne, Australia to commence her chiropractic training at RMIT University's complementary Medicine department. After completion of two years down under she went back to the USA to finish another 3 years of thorough chiropractic training finally graduating with another bachelors in Life Sciences, a Doctorate in Chiropractic and a four month old baby! Baby Kephra, who was home-birthed by her mother, grew up in the practice as Dr. Miranda breastfed him in between patient visits, and he could often be found asleep under the chiropractic table on his pillow.

Dr. Miranda's passion and pursuit for knowledge and sport continued in Nevis where she joined the Triathlon and cycle team competing throughout the Caribbean. From swimming the channel between St. Kitts and Nevis to running half marathons in St. Kitts and Anguilla and winning OECS 10K races, Dr. Miranda certainly keeps fit and won Olympic distance triathlons in Nevis, Barbados, and Grenada. She has a passion for helping others and is active in the role of health educator where she conducts education to the public through means of talks at churches, to youth and women's groups, on the local radio stations and sometimes co-hosting the FIT Wellness TV program. She also has taken over the "Healthy Lifestyles" TV program where she features the different aspects of Wellness care for the body, mind and soul. She is intending to implement "Spinal Screenings" as well as a "Spinal Hygiene" program in all the schools in order to diagnose scoliosis, and prevent its sometimes disfiguring and crippling complications by early chiropractic management and to teach children about the importance of the spine as the foundation of health.

Dr. Miranda really embodies Thomas A. Edison's quote that "The doctor of the future will give no medicine, but will interest his patients in the care of the human frame, in diet, and in the cause and prevention of disease."