Kevin Franklyn
Administrative Manager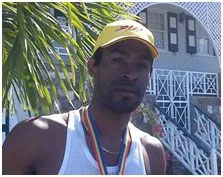 Kevin is a born and raised Vincentian who spent most of his childhood years in St Vincent, up until he was thirteen when he migrated to Nevis with his mother and two of his siblings (a brother and a sister). He had always thought of doing something universally important with his life, and after going through high school in Nevis and a series of jobs following his graduation never once had he thought about working in health care programs.
Mr. Franklyn first saw Dr. Miranda in February 2009, at a local modeling show hosted by Mount Nevis Hotel, where they were both guest models. After a series of glimpse here and there around 'Queen City" Nevis, he officially met Dr. Miranda in July of the same year. She offered him her business card and invited him to check out her clinic, (Eden Life Rejuvenation Centre). He soon after visited the centre and was fascinated by the location at the foothills on the mountain, the wonderful scenery of the lush green trees, the amazing view of the ocean high enough to sail away on the cool breeze alone, from the stance of the peak to the virtual bedding that is the horizon.
Fast forward two years, July 2011 he has somehow found his way as part of the staff at Eden life Rejuvenation Centre. He is now responsible for the everyday operations of the business including inventory, book-keeping and marketing. From the heart warming results; to the testimonials of the clients that Kevin has seen and read; he is convinced that neither of them lie and Dr. Miranda has brought a new wave technology such as LASER, BIO FEEDBACK TECHNOLOGY and HYPERBARIC MEDICINE, and a fresh perspective on natural health care to the people of the region. The perception of health care is positively changing and he believes Dr. Miranda is leading the way.
Kevin says… "Dr. Miranda's passion for the wellbeing of the people and her vision of natural health care for everyone; exceeds what I personally thought a chiropractor's job entails, you know… 'rack em and crack em' he chuckled . Her work ethic stands strong; as she treats the whole person rather than just the symptoms with hands on techniques and a true sense of warm caring energy that reassure me that when it's pertaining to my health and my wellbeing, Dr. Miranda leaves no stone unturned".
Kevin's word for Dr. Miranda is 'MIRANDOUS!!!'
Chantel Brennan
My name is Chantel Brennan. I was born an Illinois farm-girl, the youngest of seven children. I was transplanted to the Florida Keys, Marathon, where I thrived as an island teenager. I spent 10 months in Indonesia, mostly Bali, as an exchange student before going to the University of Illinois at Champaign-Urbana. I was the first to graduate with a bachelor's degree in my own made-up major of Agricultural and Environmental Communications and Education. Then I was off to West Africa, Niger, for three years in the Peace Corps and travel. I had a feeling before, but after that I knew I would not choose to live a conventional life. Sailing from Venezuela to theCaribbean Islands with friends I first stepped foot on Nevis, where I eventually fell in love and made my home. I am married to a Nevisian man and we have three absolutely amazing kids. Everyday is a surprise, a new beginning, often a challenge. Yoga is central to my life. So is being close to the earth and living as simply and naturally as possible. My personal business is making island-inspired jewelry full of good vibes, Piece of Peace.
My job at Eden Life Rejuvenation Centre keeps me grounded and allows me to help spread knowledge and love. I believe in the mission here, and I feel lucky to be part of making it happen. I do this through making food and drink that is local, organic and delicious, often wild-harvested or homegrown, and also through sharing my experience of yoga and meditation. I make oil infusions from local herbs to incorporate into our organic facials. I do anything and everything that can help the people who are here to help themselves. Come and experience for yourself.